Classes are held online and follow the Sarasota County calendar school year. Also, feel free to view our school brochure. Please see additional links on this page for general school information. Please contact our faculty or our Principal with any questions or comments.
Sarasota Chinese Academy is very fortunate to have native Mandarin Chinese teachers. Text books used by our teachers are some of the same books used by teachers in China, through HanBan, China's Department of Education. Additionally, The Confucius Institute has donated Chinese language and culture books the The Sarasota Chinese Academy which are also used as a resource for students.
Shu De Zhong Wen Xue Yuan is the Chinese name of The Sarasota Chinese Academy. "Shu" means tree, which symbolizes how education fosters one's ability or talent(s). De" means virtue or morals. Our Chinese name was based on the principle that education helps students to develop moral integrity of heart and mind, in order to become contributing members of our society and world at large.
Since its inception in 2006 the Sarasota Chinese Academy has grown in enrollment and community involvement. Our school is active through language classes and cultural events. Our school student body can range from approximately twenty to sixty students enrolled on a semester basis. We have teachers who teach pre-k through adult. Click below for our 2023 Registration Form.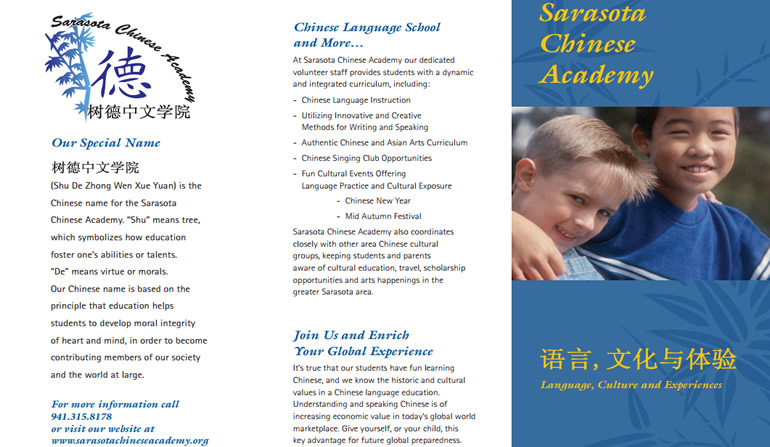 The Board of Directors, Principal, officers and teaching staff of Sarasota Chinese Academy have adopted in part, Sarasota County Schools student body rules and guidelines to facilitate the safe operation of our school and to take reasonable steps to protect school property. Our faculty has been entrusted to be good stewards of these facilities. Most importantly, we aim to ensure a safe and orderly learning environment for our students at the Sarasota Chinese Academy. If you would like to enroll, we request that you please sign the our Student Body Handbook agreement and keep a copy for your records. Click here
.